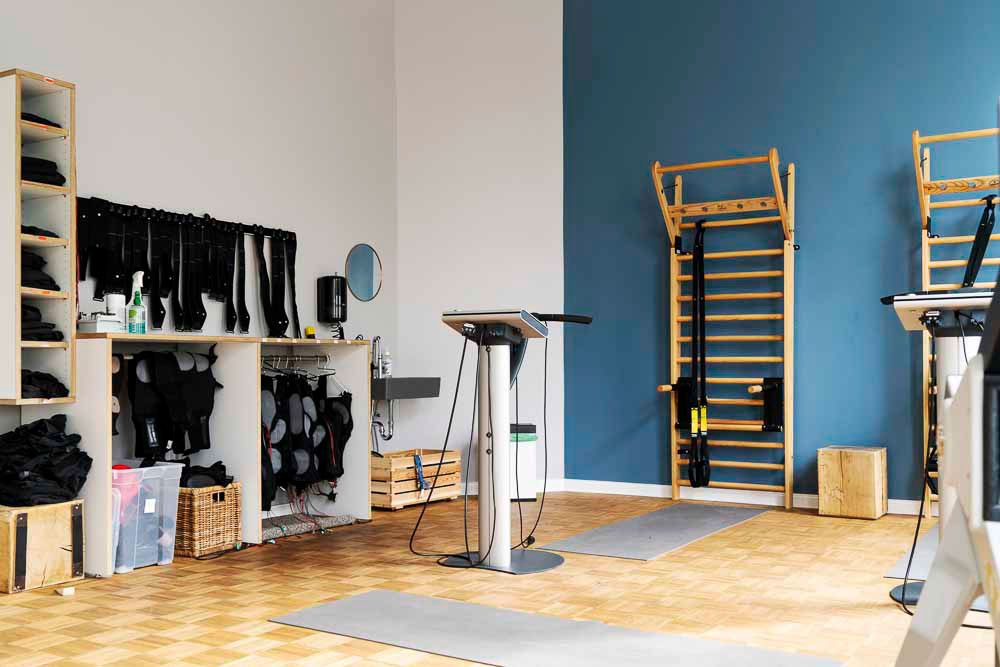 EMS
Wir trainieren Euch individuell unter Strom, damit sich sowohl Rücken, Körperform und Beckenboden, als auch Eure Laune spürbar verbessern … Und das mit nur 20 Minuten Training pro Woche.
Du kannst sowohl das EMS Training als auch die EMS Beckenboden Therapie bei uns buchen!
Probetraining:
40 min. = 40 Euro / wird angerechnet beim Kauf einer 10er Karte
EMS BBT Einzeltraining 10er-Karte
EMS Beckenbodentherapie Einzeltraining 10er-Karte
(10 x 20 Minuten)
Kundalini Yoga mit Sonja
NEU ab Januar 2023 im Badehaus
Dienstags 18.15 – 19.45 Uhr, Einlass ab 18 Uhr | 90 Minuten Schnupperstunde 15 Euro | monatlich 55 Euro | Ermäßigungen sind auf Anfrage möglich.
Kundalini Yoga folgt einer jahrhunderte-alten Tradition und fügt sich sehr gut in das Bedürfnis nach moderner Spiritualität.
Mit vielfältigen (yogischen) Methoden ist Kundalini Yoga überaus abwechslungsreich und immer dem einen Ziel gewidmet: zu dir selbst zu finden, dein Selbst zu finden, dich selbst zu heilen, zu kräftigen, zu balancieren.
Yoga bedeutet Einheit – mit dir selbst im Allgemeinen und im Besonderen.
Und es wirkt unmittelbar.
Das in jeder einzelnen Kundalini Yoga Stunde sehr spürbare Erleben deines pulsierenden, lebendigen, heiligen Selbst geht einher mit der Erweckung der Kundalini Energie im Wirbelsäulenkanal. Das geschieht langsam und stetig; der Körper ist weise. So werden wir immer bewusster. Probiere es aus. Anfänger*innen und Fortgeschrittene sind gleichermaßen willkommen und können sehr gut zusammen praktizieren.
Für den eigenen Prozess ist eine verbindliche längerfristige Teilnahme wünschenswert.
Ich unterrichte Kundalini Yoga seit 25 Jahren in eigenen Kursen.
Yogamatten sind vorhanden. Komm in bequemer Kleidung und bringe Socken, eine Decke oder ein Tuch und Wasser zu trinken mit.
tsar® – The secret of active regeneration
Tsar® ist ein einzigartiges, rasch wirkendes und nachhaltiges Trainings- und Regenerationsprogramm, welches Deine Spannungen reguliert, Deine Haltung optimiert, Deine Leistungsfähigkeit steigert und Deine Regeneration beschleunigt. Ein Ergebnis wird sofort spürbar und sichtbar, Du gelangst zurück in Deine Kraft.
Mit wenigen Mitteln und dem help yourself Programm kannst Du auch zu Hause diesen WOW Effekt weiterführen.
Weitere Informationen unter www.tsar.at
80 Minuten